Fencing
Get your fence supplies today or get your fence installed by our professionals!
We Believe in Quality
"From start to finish – get the best materials with us."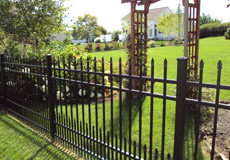 Fencing for farms, landscapes, and gardens 
We offer all kinds of fencing for commercial and residential use in a wide array of materials. Whether you need heavy-duty barnyard fencing, aluminum fencing for a residence, or fencing for enclosing a garden, you can count on us to have what you need. We have great-looking fences to complement landscaping for homes and strong, functional fences for your business's security.
Great-looking, strong, functional
Expert PLanning and Installation
Let us help you plan and install your new fencing. We can tell you what you need or how many components you will need to fence in the desired area. We can also install it for you or give your advice on installing it on your own.
The best fencing materials available
Choose from all the best materials, including vinyl fencing and aluminum fencing and railing. We carry top quality fencing material from brands we trust, and they're all available in our lumber yard for you to complete your project.